2020 NBA Redraft (Lottery Picks)
Coming into a draft, I am not sure if we have seen a draft class as bashed as the 2020 draft. Sure, a part of it definitely could be that we had 18 months to talk about this draft class since draft night occurred four months later gab typical, but many scouts had major question marks about the make up of the top prospects. Anthony Edwards had skepticism towards him regarding decision making and if he really loved to play. Lamelo Ball has an odd looking jumper, a super unique path to the league, and the natural baggage questions that come from being a Ball Brother. James Wiseman only played three games at Memphis and that decision naturally led to some questions Game wise, even though some of these concerns remain to this day, his feel for the game and relatively traditional play style led to some concerns. Outside of these three, there weren't many players deemed as big time prospects.
After a year, though, a lot of these questions have been erased. This draft isn't only exceeding the relatively low expectations people had for it, it is looking like a good class. Anthony Edwards and Lamelo Ball look like potential franchise players, and there is good depth of high end talent throughout the class.
Like I said, it has only been a year, but we have obtained a lot of valuable information about many of these players, information that could have influenced the draft night results if we knew what we knew now. Let's take a look at my redraft based on what we know now and what I think each team should've done looking back.
1. Minnesota Timberwolves- Anthony Edwards (SG, Georgia)
(Original Pick- Anthony Edwards)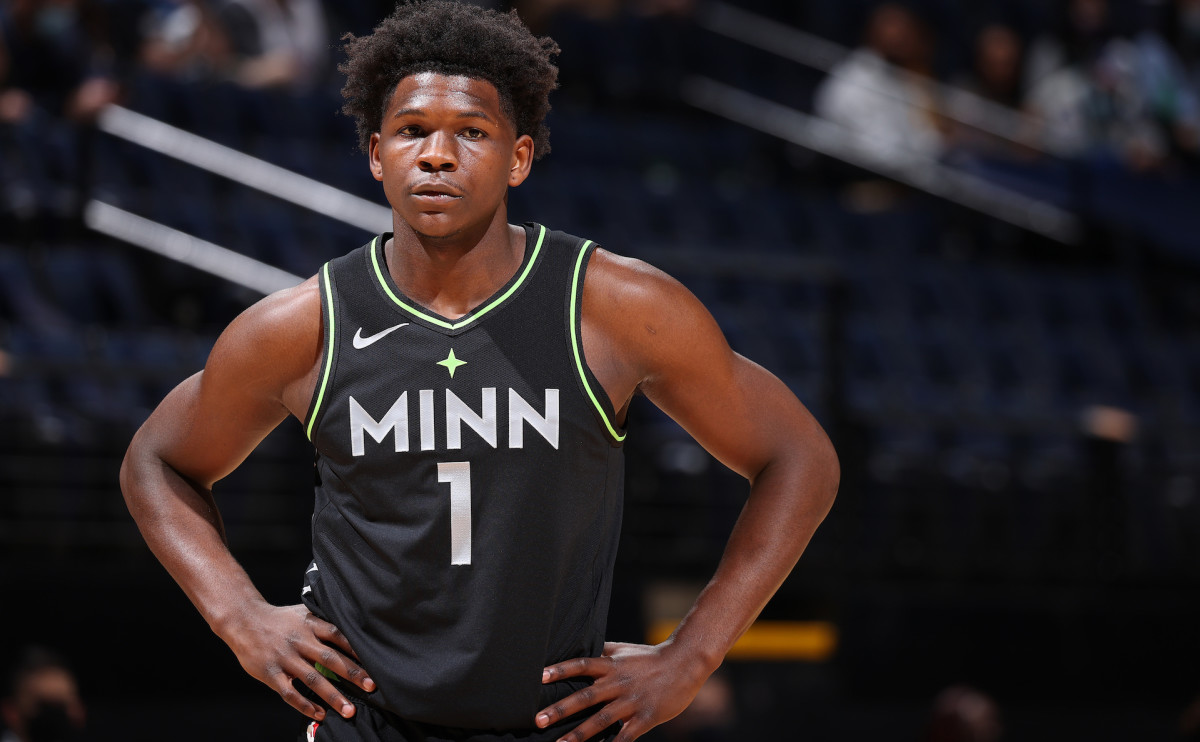 Even though this draft has shown to have talent throughout the board, the two prospects that have really separated themselves from the pack are Anthony Edwards and Lamelo Ball. You couldn't go wrong either way. Most people would probably redraft Lamelo Ball to Minnesota with the first pick, and there is no issue with that, but Anthony Edwards was also absolutely special as the year went on.
Edwards did have a slow start to the season, but you could point to a multitude of reasons for that; like all rookies, he only had a month between getting drafted and playing so his growing pains were going to be pretty immediate, he started on the bench, his role fluctuated due to injuries on the Wolves, Ryan Saunders also struggled to get the most out of his talent. In the 40 games with Chris Finch, he averaged 23.2 PPG, 5.4 RPG, and 3.3 APG on 44.1%. He was one of the best finishers around the rim and third in the league in pull-up three point percentage behind Damian Lillard and Stephen Curry in that span. Mind you, he graduated high school a year early, he was supposed to play in college this season.
With his 6'5″ 225 pound frame with good length, elite body control, ability to change speeds, and freakish explosion, he is the most impressive athlete we currently have from the shooting guard position already. And when you add that to his improved feel and polish scoring the ball, I am not sure if there is a more gifted young SG in the league. What I also love about him is he has that "it" factor about him and his work ethic is much better than the media narratives initially advertised. He is already emerging as the face of the Timberwolves. He and Karl-Anthony Towns are going to be super entertaining if they can stay healthy.
2. Golden State Warriors- Lamelo Ball (PG, USA)
(Original Pick- James Wiseman)
Similar to what I alluded to earlier, there seems to be two number one caliber picks from this draft… and the Rookie of the Year, Lamelo Ball, is certainly one of them. Lamelo Ball had the best overall rookie season from start to finish when you don't consider injuries. Like Anthony Edwards, he started the season on the bench, but he quickly willed his way to the starting lineup and did not look back.
His ability to find others was super apparent from the start, his ability to set his teammates up is better than his six assists a night suggested, and his creativity and the string he had with the ball made Charlotte showtime in a way we haven't seen since Larry Johnson. His shooting and overall scoring prowess was also pleasantly surprising, even for the huge Lamelo Ball optimists such as myself. When excluding the finals games of the regular season, when he was still recovering from a wrist injury, he was shooting nearly 38% from deep on over five attempts, he also led the league in three point percentage beyond 27 feet. His elite touch and overall shooting touch translated much better than expected.
When you add this scoring ability to a 6'6″ guard with tremendous vision and creativity, we are talking about a superstar talent. I also think he would have fit well on a Warriors team that pushes the pace and has a ball movement oriented offensive style. I believe in James Wiseman long-term, but having Lamelo Ball in this Warriors nucleus would be a huge difference maker in their hopes to contend with Stephen Curry.
3. Charlotte Hornets- James Wiseman (C, Memphis)
(Original Pick- Lamelo Ball)
After the top two picks in this draft, even though there is a decent amount of good talent outside of them, you can go many ways as there is a decent drop-off. James Wiseman was not the third best rookie this year, he wasn't even the best rookie center this year, that was Isaiah Stewart, but projection still has decent weight and I am high on his long-term potential.
His defensive instincts, post game package, and ability to consistently find open teammates needs work, but his physical tools as a seven foot big with great length to go along with his excellent strength and ability to move like a guard makes his raw athletic tools as impressive as any seven footer we have seen in the last few years. His handle In the fast break and smooth stroke to go along with his physical tools, in my opinion, give him the best remaining upside in this draft.
Patrick Williams and Tyrese Haliburton are also worthy of going this high, but Charlotte had one of the worst center rotations in the league last year. For their sake, getting a center with the raw talent Wiseman has that can make that his weaknesses potentially a strength in a couple years, he makes the most sense for them out of all the remaining players.
4. Chicago Bulls- Tyrese Haliburton (PG/SG, Iowa State)

(Original Pick- Patrick Williams)
The Bulls got a lot of heat for taking Patrick Williams fourth overall. But as the season progressed, the less people questioned the selection as his fantastic physical and two-way tools began to pop. But with the way Tyrese Haliburton played last year, it would be difficult to pass on him at this spot.
Haliburton is by no means the flashiest or more intriguing player to watch, he doesn't pop out athletically; he isn't overly creative with the ball in his hands, he has a funky jumper, but he was the most steady and well-rounded rookie. He secondary vision and passing was as good as advertised, his height and awesome defensive instincts made him a day one positive as a team defender, and he was incredibly efficient as a scorer with his 47/41/86 shooting splits.
Tyrese Haliburton probably doesn't have a top four ceiling in this draft for the reasons I mentioned regarding why he isn't the flashiest player, but with his versatility and IQ, there is star potential here, but most importantly, he can contribute to winning basketball immediately.
The Chicago Bulls signed Lonzo Ball, a pass-first, defensive minded, secondary playmaker, in free agency this summer, Tyrese Haliburton fills a very similar archetype. Getting a player with similarities to Lonzo Ball but on a rookie contract would likely be appealing, if they had the option to redraft at this spot.
5. Cleveland Caveliers- Patrick Williams (SF/PF, Florida State)
(Original Pick- Isaac Okoro)
Patrick Williams did have an elevated level of pressure and expectations as a surprise top four pick, but he silenced haters quickly with his play and proved to be a potential top five talent from this class. Statistically, he didn't light anything on fire as he averaged 9.2 PPG, 4.6 RPG, and 1.4 APG, but he shot very efficiently with his 48/39/73 splits. Most importantly, the flashes he displayed with his athleticism, defense, his shot creation from the mid range, and his underrated feel for finding open teammates. He also doesn't need the ball in his hands to get himself open offensively, he is a very good cutter and can run to an open spot his teammate can find him from three, that is super important when playing with multiple All-Stars
The Cavaliers took another physically gifted wing in Isaac Okoro, who played very well towards the end of the season, who also has two way tools, but with Patrick Williams'shooting to go along with a similar level of athleticism, defense, and playmaking, you can't pass on him at this point.
6. Atlanta Hawks- Jaden McDaniels (SF/PF, Washington)
(Original Pick- Onyeka Okongwu)
Some people may be surprised McDaniels is this high in this re-draft, he didn't get the spotlight or recognition that other rookies did, but McDaniels' combination of high floor and high ceiling makes him worthy of being at this spot. You could argue he was the best defensive rookie last season, he is a tremendous On-Ball defender that showed the ability to give the James Harden's and Luka Doncic's of the world trouble, he also can switch on bigs and function as a weak side rim protector, he was second in blocks out of rookies as a forward as well as 2nd in BLK% out of wings.
Offensively, his stats never don't blow anybody out of the water, a major part of that was he had garbage time minutes to start out the season, but his role increased throughout the year and became a good compliment to Minnesota's primary playmakers as a catch and shoot player with great cutting instincts. He also showed ability to create off the bounce and playmaker for others as a near seven footer, this ability also popped in the summer league. If McDaniels tightens his handle more, his upside is tremendous.
Atlanta does have a surplus of wings, but this is a league where you can't have too many wings, and his playstyle as a 3 and D wing that is evolving into a secondary playmaker would be a tremendous fit next to Trae Young.
7. Detroit Pistons- Isaiah Stewart (C/PF, Washington)
(Original Pick-Killian Hayes)
A couple years ago, both Isaiah Stewart and Jaden McDaniels were considered top seven recruits out of the high school class of 2019, after they both spent their freshman season's at the University of of Washington, their stocks slipped as both fell out of the lottery. Now after their rookie seasons, it appears clear their high school rankings reflect how talented they are much more so than where they got drafted. Not a great look for the Washington.
Killian Hayes, Detroit's first pick last year, is still a major question mark, but Detroit absolutely nailed their other two later first round picks, to the point where I believe they should take who they took at 16 with their seventh pick, if there was a redraft.
Isaiah Stewart may be a little undersized for a center, but he is super stout, he plays with great physicality, and knows how to throw that stout frame around, especially inside. He averaged over two blocks and 10 rebounds per 36. Offensively, he is a good roller that can throw his size around to get to his spots inside, and he showed the ability to hit an open jumper.
Isaiah Stewart may not have superstar potential, but players like him that do the dirty work are exactly what you want from a complimentary player on good teams. Stewart has a chance to be Detroit's starting center for a decade.
8. New York Knicks- Immanuael Quickley (PG/SG, Kentucky)
(Original Pick- Obi Toppin)
Smilar to Detroit, the first lottery selection they made did not look like the best player they selected, it was the second first round pick they seem to have hit on. Quickley did not get substantial minutes on the Knicks last season, but on the right night, he was a major difference maker as he is one of the deadliest shooters in this draft when he was feeling it. Quickley is one of the few players in this class that can legit drop eight threes on you in any given night. His floater game is also elite already and that opens up his ability as a scorer from deep. I also think he could become a high level defender in a New York Knicks type system with his motor and 6'10" wingspan.
If Quickley becomes a high-level guard in this league, that is because he becomes a very good defender and someone that can legitimately facilitate an offense; he has a long way to go in that regard, which makes him more of a small shooing guard at this moment. A flamethrower next to RJ Barrett and Julius Randle is exactly what the New York Knicks have needed.
9. Washington Wizards- Saddiq Bey (SF, Villanova)
(Original Pick- Deni Avdija)
One of my proudest basketball takes I had regarding the 2020 NBA Draft was saying Saddiq Bey was the best '3 and D' prospect in the class, over Devin Vassell. It is only one year in, but it feels like Saddiq Bey just might be that.
Bey was one of the best shooting rookies we have seen, he set the All-Time record for most threes ever made by a rookie… and that was in a 72 games season! His ability to get hot in a hurry helped him. He also be the only Rookie to win a Conference Player of the Week. In that week, he dropped 30 against Boston on seven threes and carried his squad to victory. He isn't only a shooter, he has tools as a shot creator, and is a very good defender.
As the Wizards seem to be in win now mode, having a player like Saddiq Bey, who helps Bradley Beal defensively and doesn't need the ball in his hands, feels like a very logical direction.
10. Phoenix Suns- Deni Avdija (SF/PF, Israel)
(Original Pick- Jalen Smith)
Deni Avdija had a very up and down season for the Washington Wizards, but I don't think we should overreact too much. First of all, aside from players such as Luka Doncic, there has historically been a transition period for European players when they come to the NBA, that alone should make us be patient with him. Also, he was incredibly misused. Deni Avdija is a secondary playmaking, do it all type forward that needs to the ball in his hands and needs to work on his shooting. The Wizards used him as an off ball stretch forward, that literally is exactly how you not use Deni Avdija.
I am still a huge believer in him because of what he did in Europe, his feel for the game with the ball in his hands at 6'10", and the tenacity he plays with. If the Wizards come to their senses and take advantage of the skillset he currently has, I think he goes much higher in a redraft. I am just not 100% confluent the Wizards will will use him properly next to Bradley Beal, we will have to wait and see there.
11. San Antonio Spurs- Isaac Okoro (SF, Auburn)
(Original Pick- Devin Vassell)
We knew Isaac Okoro was going to defend from the moment he breathed on an NBA floor, that's what happened. His offensive rawness was also apparent, but his comfort throughout the season increased as he made strides as a slasher, creator, and playmaker. He averaging 16.6 PPG and 3 APG in May was clear evidence of his development.
He will need to prove that he can take a large offensive load and consistently hit shots from the outside to become a star level offensive talent, but the upside is as much there as it was a year ago. The Spurs have a history of developing young, defensive minded prospects (Dejounte Murray, Kawhi Leonard), it would have been amazing if this marriage between Okoro and the Spurs actually happened.
12. Sacramento Kings- Onyeka Okongwu (C/PF, USC)
(Original Pick- Tyrese Haliburton)
Sacramento does not have a strong history of discovering diamonds in a rough, but they certainly did by taking advantage of Tyrese Haliburton falling to them. They likely would not get anybody in the caliber of Haliburton, which is why they wouldn't be glad with a redraft, but Onyeka Okongwu would make a of sense on this team.
Okongwu didn't blow anybody away statistically year one, he was hurt for a large chunk of the season, and played on a contending team behind a top 10 center in Clint Capela ,which limited his opportunities. But as he got healthier and had a looser leash, his defensive instincts really shined. His rim protection and ability to switch on the perimeter was as good as advertised. Offensively, he can play off of playmakers due to his rolling and potential as a player who can pop. His mid range is beginning to become a part of his game.
Okongwu is going to miss the first part of this upcoming season, that doesn't help his stock, but his athleticism, defensive versatility, and low maintenance offensive style would've helped Sacramento significantly going forward.
13. New Orleans Pelicans- Cole Anthony (PG, UNC)
(Original Pick- Kira Lewis Jr.)
Cole Anthony did have some inefficient nights, he wasn't defending much, and battled injuries during his rookie season, but he had some of the best moments out of rookies as well. He had multiple game winners and closed out the season by dropping 37 against the Philadelphia 76ers.
Cole's ability to create separation off the dribble and get hot from deep is certainly among the best in the class. If he can become a consistent shooter, he could end up being one of the best scoring point guards from this draft. His tenacity on the glass and get others was also better than advertised. You could argue Anthony should go much higher in this mock draft and I would not have much of a problem with it.
Pairing a dynamic playmaker in Anthony next to Zion Williamson would have been a blast, even though I still think Kira Lewis Jr. still has a chance to be that guy, as well.
14. Boston Celtics- Desmond Bane (SF/SG, TCU)
(Original Pick- Aaron Nesmith)
Desmond Bane was one of the oldest rookies to come into the league, he is going to be 24 this year. But from the very beginning, he was one of the best shooters in the league as he shot over 43% from deep last year. He also was a very good cutter. Defensively, he was very solid despite having subpar length for his height.
Desmond Bane's play style and age does not give him much star potential, but we are seeing players like Joe Harris and Duncan Robinson, pure snipers, making huge differences on teams with title aspirations. Aaron Nesmith has a chance to be that guy, probably with a higher ceiling, but Bane seems to be super well on his way to fit that archetype, which makes a difference on a team like Boston that has multiple high usage playmakers in Jayson Tatum and Jaylen Brown and hopes to contend in the near future.