The All Star participants voting list was just released. Obviously, there's some surprises. Some of the first things we were all thinking when we saw the list; Luka Doncic over AD and KD??? Jeremy Lin? Dwyane Wade second in East guards? Derrick Rose second in west guards?. There's obviously a lot of debate about whether some of the players who were included on the list, deserved to be there. Instead of stating the obvious and saying James Harden should be over Derrick Rose, and Demarcus Cousins shouldn't even have any votes (hasn't played this season), I want to talk about some potential All Stars who didn't even make the list!!!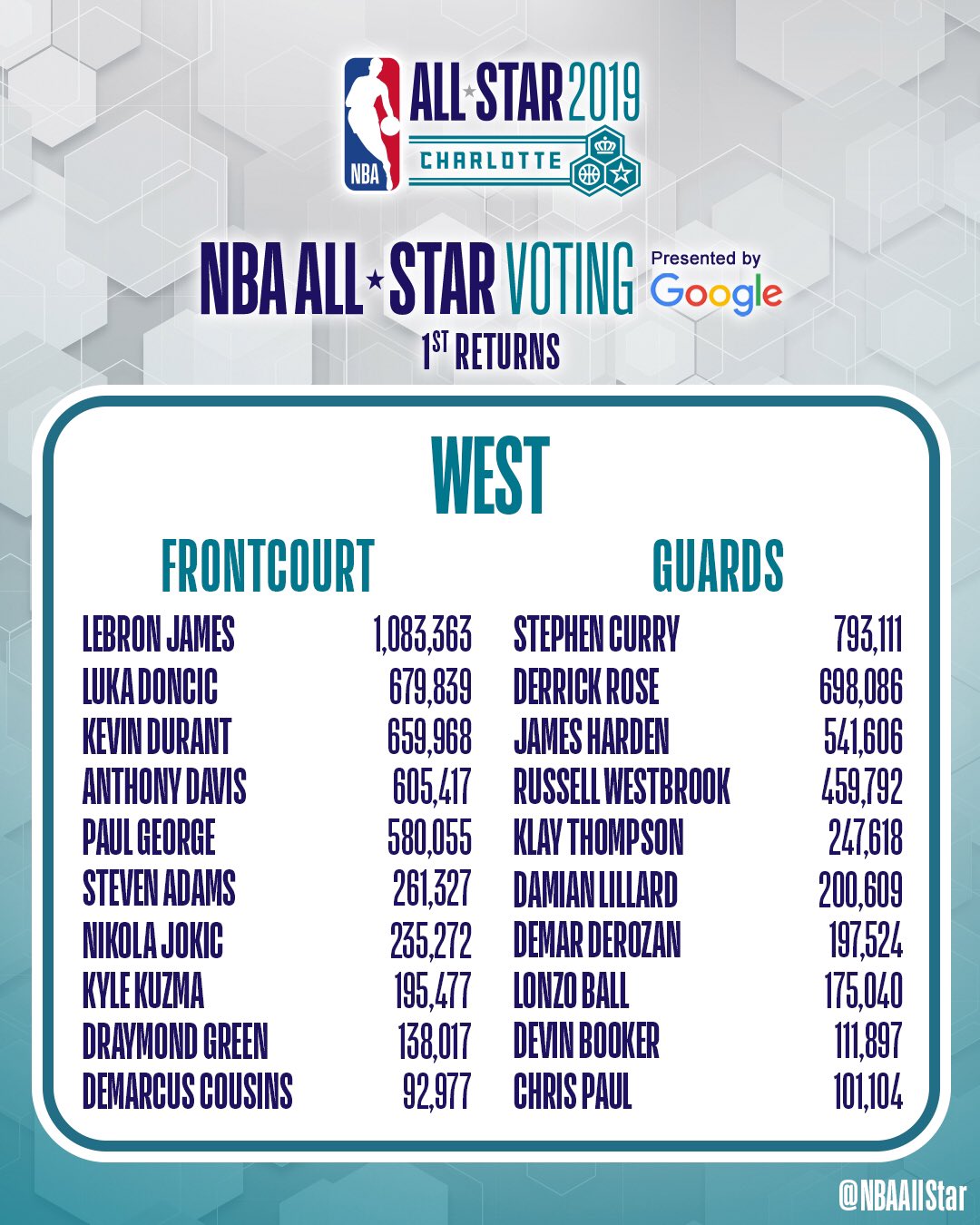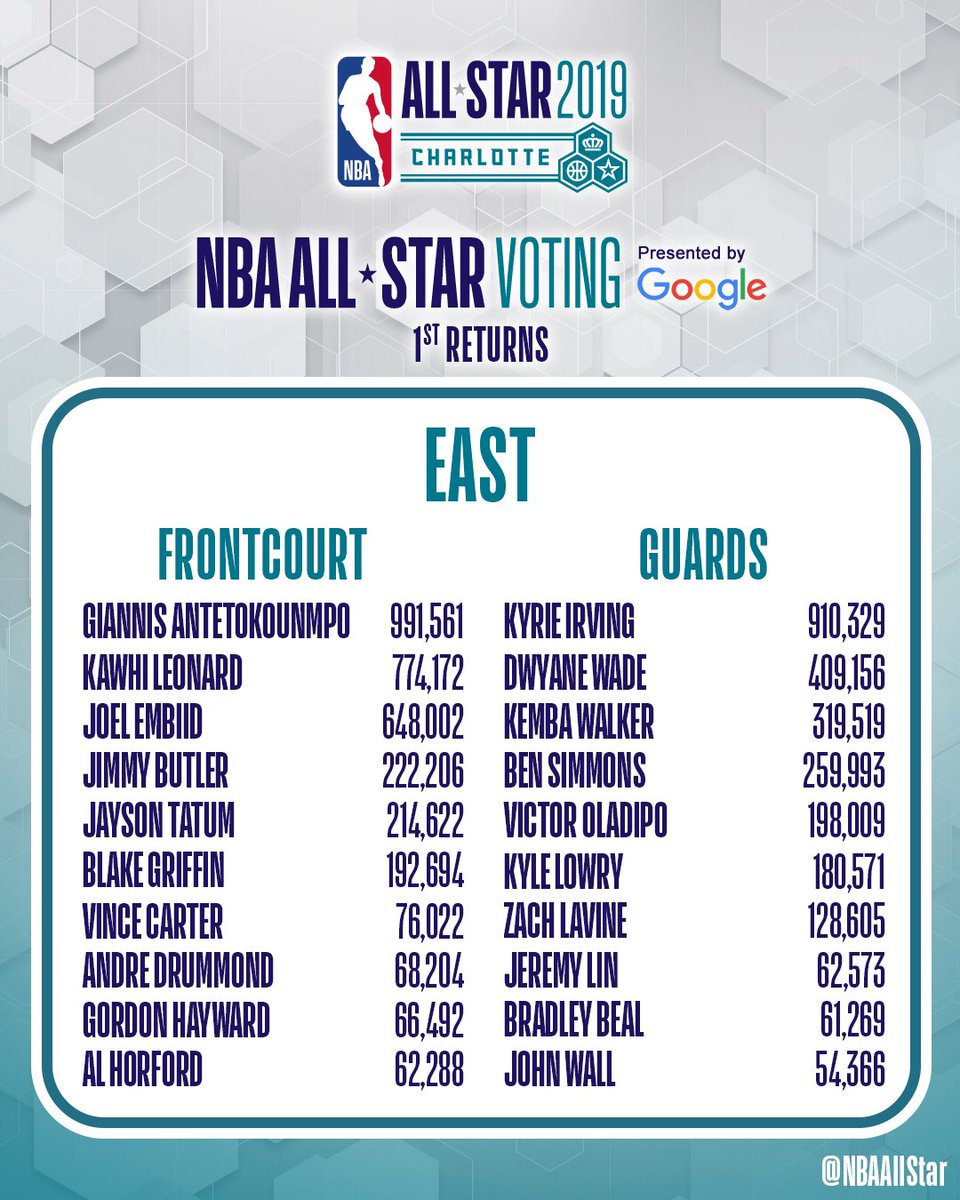 Just to specify, on this list I will be including players who, although maybe not deserving of All Star, should at least make the top 10 list. As well, the list is based only on fan voting, so perhaps some of these candidates could make the all star game.
1. Karl Anthony Towns – C – Minnesota Timberwolves
Let me just put it like this, Karl Anthony Towns is top 20 in scoring, averaging 21.9 points per game more than Demarcus Cousins is this season. He is still averaging an impressive double double this season. Lets compare him to someone who people weren't overly surprised to see on the list, Al Horford. Towns averages a rounded 22 points 12 rebounds and 1.9 blocks, Horford averages 14 points 9 rebounds and 1.2 blocks. They also both average approximately 33 minutes per game. If you want to use the excuse that Towns isn't winning, your argument is invalid, almost 700 thousand people have voted for Derrick Rose, who yes, has had an amazing comeback, but lets say even half the people who voted for Rose (who plays for the same team as Towns) voted for Towns, this would put him at a reasonable 6th place in front court west voting. If you're out here voting for the all star game, I am totally cool with voting for Derrick Rose, even if he may not be the same caliber as Towns, but come on now, get one of the top three centers in the all star game voting contention.
2. Tobias Harris – F – Los Angeles Clippers
It's time to get out of the past. Tobias Harris has broken through, and is no longer an average role player. Harris has been carrying the Clippers averaging over 20 points per game for the first time in his career, in just as many minutes as he's played his whole career. Harris is being considered for most improved player by many this year, and being a borderline star all his career, you'd think that Harris would get a little bit of love from the fans. Unfortunately, we forgot about him, and the Clippers. I hate to pick on Demarcus Cousins again, so I'll pick on Draymond Green. Draymond has proven himself a star in this league no doubt, but just because you play for the Warriors, doesn't mean you just get a free pass to the All Star Game. Green is averaging just as many rebounds and slightly more assists than Harris, but he's averaging a whooping 7 points per game, which is marginally less than Tobias Harris. Not necessarily stating that Draymond shouldn't be getting votes, I'm just saying if Draymond gets on the list, so should Tobias Harris.
3. Mike Conley – G – Memphis Grizzlies
So are we just going to pretend like Mike Conley isn't an all star caliber player??? Conley has never made an all star game, and this should be his year, to at least get considered. 2 years ago, Conley averaged almost identical stats to this year, in what was dubbed his best season. Many believed he was all star material. He came up just short unfortunately. This year, averaging only 1 point per game less, and nearly identical stats, he is not even on the list. Trailing guards like Lonzo Ball, Derrick Rose and Chris Paul. Now if we want to talk about a comeback season, why are we ignoring Mike Conley, who had heel surgery last year and missed most of the season. He now returns, ignored by everyone. To me this is disappointing, Conley may not be an all star, but he is without a doubt one of the 10 best guards in the Western Conference. A frustrating comparison for Grizzlies fans would be Victor Oladipo, who is slumping after his breakout season last year. Oladipo averages 18 points, 5 rebounds and 4 assists (rounded), with these numbers he sits 5th in guard voting in the east. Conley averages 20 points, 4 rebounds and 6 assists (rounded). So… why is Conley not even getting half the votes that Oladipo is getting? It's also worth mentioning Kanye West has advocated for Mike Conley in the past!
4. Donovan Mitchell – G – Utah Jazz
If we're going to vote for Jayson Tatum, why not vote for Donovan Mitchell. It is a common misconception that Donovan Mitchell is slumping after his amazing rookie campaign. Through his first 39 games, Donovan Mitchell is averaging pretty much the exact same, none of his major stats increased or decreased by 1 whole unit. He's still averaging 20 points per game, which was incredible as a rookie, and just as incredible as a second year player. Now Mitchell might not be as snubbed as players like KAT, but I think he's better than Lonzo Ball, who's racking in votes despite getting booed in his home arena. Many believe Mitchell could see another dunk contest, so at least he could make the trip to Charlotte for the event, but I'm sure Jazz fans are unimpressed to not see their prized player left off the top 10 west guards in fan voting. I do believe Mitchell could see success among media and NBA managers in the all star process, it's just disappointing to see Mitchell not even on the list at all. If only All Star success was based on not getting booed in your own arena, maybe then Jazz fans could see the Spiderman himself soar above LA's Ball.
5. CJ McCollum – G – Portland Trail Blazers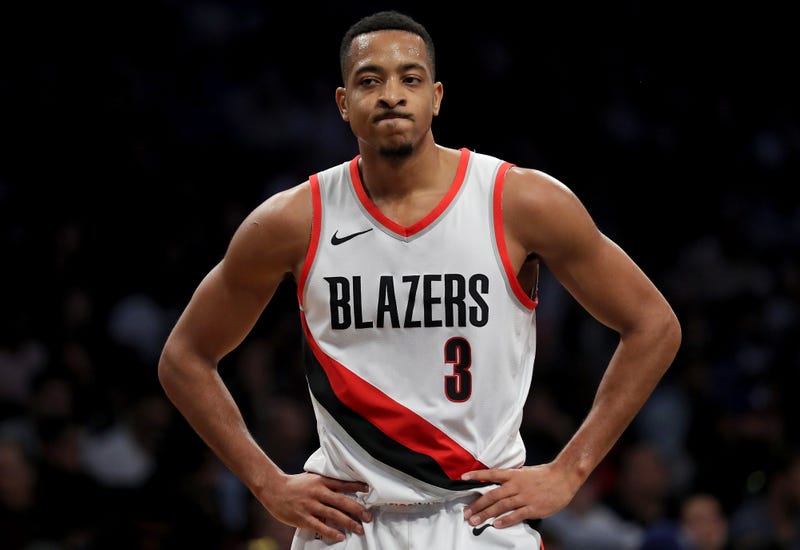 The days of Trail Blazers guards being snubbed are over! maybe… Damian Lillard is finally getting the respect he deserves, but now that this issue has been dealt with, it's time to turn our heads towards Portland's number 2, CJ McCollum. McCollum may not be having an elite season, but he's pretty close to it. Call it whatever you want, but it's better than Dwyane Wade's season (no hate DWade). CJ McCollum has had to play in a ball dominant Damian Lillard system, which puts CJ as the clear number 2. Look at how much success CJ has had despite the chips being stacked against him. I mean, come on now Lonzo Ball?! Lets get back to reality and give CJ the recognition he deserves. He almost got in last year, this year shouldn't be any different, CJ is still an elite shooter, and should be seen on the same level as players like Devin Booker, Chris Paul and dare I say Demar DeRozan?
There's also a few honourable mentions which include: Clint Capela (C – Rockets), Jrue Holiday (G – Pelicans), Nikola Vucevic (C – Magic), Tim Hardaway (G – Knicks) and DeAaron Fox (G – Kings)